广州蓝禾素环保科技有限公司,位于广州市番禺区大龙街新桥村,公司成立于2015年。厂区面积约2500平方米,是一家专业生产车用尿素溶液,尿素脱硝剂,高端柴油版尿素,氮氧化物还原剂厂家。企业集研发、生产、销售为一体化,致力于大气污染中氮氧化物的减排和控制研究。公司采用全程自动化生产。并拥有完善的配套售后服务体系。获得22项车用尿素专利生产技术,6项发明专利技术。销售量全国top10。产品并销往东南亚各国。"蓝禾素"车用尿素品牌全面跨入国内一线品牌行列。
产品原料一直采购国内上市公司高纯度AUS32专用原料,采用公司发明专利技术,从双级反渗透及EDI制水工艺与原料循环溶解技术,品质管控,指标检测,成品灌装一系列生产流程,每环节经过严格把控,确保每一件产品合格出厂。
2016年度成为英国ECOUREA 品牌战略合作商(中国境内AUS40船舶唯一指定代理生产商)。并进驻国内多家大型加油站及商用车厂商指定合作伙伴。为更好的服务市场需求分别设立江西省、湖南省、广西省、云南省、海南省营销中心,并在全国各省市区逐步建立蓝禾素联盟分厂能及时配送至全国各地。
产品严格按照国家执行标准 GB 29518:2013,国际:ISO14001:2004标准生产。
公司历程简介:
1.2015年本企业通过(ISO9001:2015)质量管理体系认证
2.2015年与江西省投资集团有限公司(省属国企)江投石油签订战略合作伙伴
3.2016年加入广州番禺厂商会(企业联合会,中小企业协会)
4.2016年度成为英国ECOUREA品牌战略合作商(中国境内AUS40唯一指定代理生产商)
5.2017年被认定为广东省高新技术产品
6.2017年经审核本单位加入中国环境保护协会会员单位
7.2017年加入广州聚力供应链商会战略合作伙伴(商会指定车用尿素供应商)
8.2018年荣获广东省高新技术企业
9.2018年荣获全国信用诚信示范单位
10.2018年通过中国知识产权管理体系认证
11.2018年荣获中国环保科技行业名优品牌
12.2018年荣获中国环保科技行业AAA信用企业
13.2018年入选为中企信办信用建设工作委员会成员
14.2018年入选第一届中国环保科技行业绿色环保品牌
15.2019年成为广州市番禺区新业态企业家商会(番禺江西商会)副会长单位
16.2019年成为广东省城际服务运输协会战略合作伙伴(商会唯一指定车用尿素供应商)
17.2019年与全球知名企业(台湾诺瓦材料科技有限公司)达成战略合作关系,同年在江苏昆山共投资(100万)组建全指标化验室
18.2020年加入广州市南沙物流商会(商会指定车用尿素供应商)
19.2020年加入广州市白云区物流商会(商会指定车用尿素供应商)
20.2020年加入广州物流与供应链协会(协会指定车用尿素供应商)
选择蓝禾素的理由
1. 先进的生产工艺:
使用AUS32专用高纯车用尿素原料,以严格的管理制度生产工艺,采用专利过滤净化系统技术,并采用公司新型发明专利技术,从双级反渗透及EDI制水工艺与原料循环溶解技术,保持质量一直稳定。
2.品质管控系统:
在车用尿素生产领域拥有专业的生产团队,先进的品质管控,严格的行业指标数据检测。每个环节严格按照执行国内GB29518-2013,国际:ISO14001:2004标准生产。并得到政府技术监督部门的抽样确认全部合格。
3.专业的物流和配送团队:
拥有专业的运输车队和物流配送,能及时,快速,准确的配送。
共赢:蓝禾素价值观,永续经营发展理念,实现长期共赢。
文化:蓝禾素企业文化,爱国诚信感恩感恩环保创新计划实实践行品质服务。
和谐:蓝禾素人文观,建立和谐,培育忠诚,博爱,协同,安康的文化,企业和员工共同达到积极状态。
发展:蓝禾素卓越观,做强做大核心业务,崛起潜力板块,拓展相关产业链,完成全国布局,打造国内知名品牌。
绿色:蓝禾素责任观,走绿色工业发展之路,以提供高性价比绿色动力为己任,展现健康,环保的形象,实现可持续发展目标。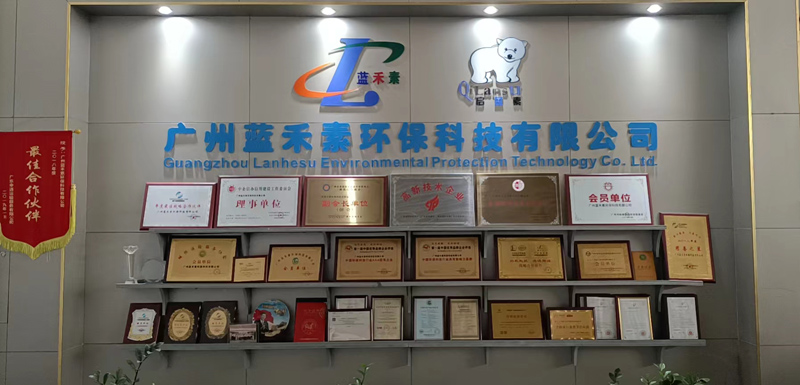 Company Profile

GUANGZHOU LANHESU Environmental Protection Technology Co. LTD, Located in SHIJI town industrial zone, PANYU district, Guangzhou city, the company was founded in 2015,and area is about 1950 square meters, the company is a professional production of car urea solution, urea denitrification agent, nitrogen oxidation reductant manufacturers. The company integrates research and development, production and sales, and is committed to the emission reduction and control of nitrogen oxides in air pollution.The company adopts full automatic process.At present, it is the leading position in the same industry.And has a complete set of after-sales service system. LANHESU obtained 22 patents of car urea technology, 6 patented technologies for invention.In 2018, the domestic sales volume ranked among the top 10 in China.The products are sold to southeast Asian countries. "LANHESU" car urea brand has fully entered the ranks of domestic first-tier brands.
Product raw materials have been procurement of the highest quality listed company in China,high purity AUS32 special raw materials was used. Using the company invention patent technology, two-stage reverse osmosis and EDI water production process and raw material recycling solution technology. In order to control the product quality, index testing, product filling a series of production processes are controlled strictly.

In 2016, LANHESU became the strategic partner of British brand ECOUREA (the only designated agent manufacturer of AUS40 ships in China). And stationed in the domestic many large gas stations and became commercial vehicle manufacturers designated partners. In order to serve the market demand, the marketing centers of JIANGXI province, HUNAN province, GUANGXI province, YUNNAN province and HAINAN province have been set up, and the branch factories of LANHESU have been gradually established in the urban areas of all provinces in China, which can be timely distributed to all parts of the country.

The products are manufactured in strict accordance with GB 29518:2013, ISO 14001:2001, the national execution standard.

Company history:
In 2015, the company passed the quality management system certification (ISO 9001:2015)
In 2015, it signed a strategic cooperation partner with JIANGXI investment group co., LTD. (a state-owned enterprise of JIANGXI province)
In 2016, it became the brand strategy manufacturer of ECOUREA in the UK (the only designated agent manufacturer of AUS40 in China).
In 2016, joined PANYU manufacturers' chamber of commerce (enterprise federation, SME association).
In 2017, signed the strategic partner of GUANGZHOUJULI supply chain chamber of commerce (the only designated supplier of Urea by the chamber of commerce).
In 2017, signed strategic partnership with GUANGZHOU YUNSHAN logistics chamber of commerce (the only designated supplier of urea for vehicles by the chamber of commerce).
2017 "One Belt And One Road" logistics summit in inland port of GANZHOU city, JIANGXI province, member of LANHESU and several large logistics summits signed strategic cooperative relationship
In 2017, it signed a regional strategic cooperation partner with PETROCHINAGUANGZHOU
In 2017, the company was approved to be a member of China environmental protection association
In 2017, it was identified as high-tech products of GUANGDONG province
In 2018, it was certified by China intellectual property management system
In 2018, it was awarded AAA credit enterprise in China's environmental protection science and technology industry
In 2018, it was awarded as the famous and excellent product of China's environmental protection science and technology industry
In 2018, it was selected into the first green environmental protection brand of China's environmental protection technology industry
In 2018, he was elected as the full member of the credit construction committee of China enterprise credit office
In 2018, it was awarded to the national credit and integrity demonstration unit
In 2018, it was recognized as a high-tech enterprise of GUANGDONG province
In 2018, Member of Intercity Transportation Service Association
In 2019, Winning Certificate of High-tech Enterprise
In 2019, Blue Hesse joined hands with Nova, Taiwan, to sign a long-term strategic cooperative relationship. Blue Heparin Nova Brand Deeply Cultivates the Car Urea Market in Hong Kong, Macao, Taiwan and Overseas
In 2019, Bluegrass has been officially certified by API of American Petroleum Association
In 2019, Bluegrass has been certified by German and has been authorized to cooperate with trademark and product strategy
In 2019, Become a special dealer of Kunlun automobile lubricant of CNPC Guangzhou lubricant sales branch
In 2019, Become the vice chairman unit of Guangzhou Panyu District new business entrepreneur chamber of Commerce (Panyu Jiangxi chamber of Commerce)
In 2019, Signed the strategic partner of Guangzhou Lingnan logistics supply chain chamber of Commerce (the only designated urea supplier)
In 2020, Signing the Guangzhou Nansha logistics chamber (the only designated vehicle urea supplier)
In 2020, Guangzhou Baiyun District Logistics chamber (the only designated vehicle urea supplier)
In 2020,Guangzhou logistics and Supply Chain Association (the only designated supplier of vehicle urea)

1, Advanced production technology:
Use AUS32 special high purity car urea raw material, with strict management system, the latest production process, patent filtration purification system technology, and company's invention patent technology. The two-stage reverse osmosis and EDI water production process and raw material recycling dissolution technology, it maintains the quality has been stable.

2, Quality control system:
In the field of car urea production, we have a professional production team, advanced quality control, and strict industry index data detection. Each step is strictly in accordance with the implementation of domestic GB: 29518-2013, international: ISO:14001:2004 standard production. And the government technical supervision departments confirmed the sampling quality.

3, Professional logistics and distribution team
With a professional transport fleet and logistics distribution system, can be timely, fast and accurate distribution.

Culture: LANHESU enterprise culture: patriotism, integrity, gratitude, environmental protection, innovation, practical practice, quality service

Environmental protect: take the road of green industrial development, to provide cost-effective green power as their own responsibility, to show a healthy, environmentally friendly image, to achieve sustainable development goals.

Development: to strengthen and enlarge core business, to rise up potential sectors, to expand relevant industrial chain, to complete the national layout, and to build a well-known brand in China.

Harmony and harmony: to build harmony, cultivate a culture of loyalty, fraternity, cooperation and well-being, so that the enterprise and employees can achieve the best state together.

Win-win: sustainable business development concept, to achieve long-term maximization and win-win.